Whirlpool Co. (NYSE:WHR) updated its FY17 earnings guidance on Monday. The company provided EPS guidance of $14.75-15.50 for the period, compared to the Thomson Reuters consensus EPS estimate of $15.48.
Several brokerages recently weighed in on WHR. Zacks Investment Research lowered Whirlpool from a hold rating to a sell rating in a research note on Wednesday, April 19th. Goldman Sachs Group Inc lowered Whirlpool from a buy rating to a neutral rating and set a $187.00 price target for the company. in a research note on Friday, January 27th. One analyst has rated the stock with a sell rating, four have assigned a hold rating and three have given a buy rating to the stock. The stock has an average rating of Hold and an average target price of $193.43.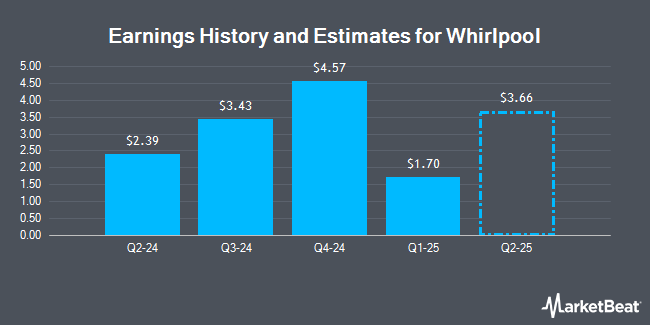 Shares of Whirlpool Co. (NYSE:WHR) opened at 180.78 on Wednesday. Whirlpool Co. has a 12-month low of $145.91 and a 12-month high of $194.10. The company has a 50-day moving average price of $177.95 and a 200 day moving average price of $175.49. The firm has a market capitalization of $13.37 billion, a PE ratio of 15.56 and a beta of 1.91.
Whirlpool (NYSE:WHR) last posted its quarterly earnings results on Monday, April 24th. The company reported $2.50 earnings per share (EPS) for the quarter, missing the consensus estimate of $2.65 by $0.15. The firm had revenue of $4.79 billion for the quarter, compared to analysts' expectations of $4.74 billion. Whirlpool had a return on equity of 18.69% and a net margin of 4.29%. The company's revenue for the quarter was up 3.7% on a year-over-year basis. During the same period in the prior year, the company earned $2.63 earnings per share. On average, equities analysts expect that Whirlpool Co. will post $15.12 earnings per share for the current year.
The business also recently announced a quarterly dividend, which will be paid on Thursday, June 15th. Shareholders of record on Friday, May 19th will be issued a $1.10 dividend. The ex-dividend date is Wednesday, May 17th. This is a boost from Whirlpool's previous quarterly dividend of $1.00. This represents a $4.40 dividend on an annualized basis and a yield of 2.43%. Whirlpool's dividend payout ratio (DPR) is 34.69%.
In other Whirlpool news, Chairman Jeff M. Fettig sold 120,700 shares of the stock in a transaction dated Friday, February 24th. The shares were sold at an average price of $180.16, for a total value of $21,745,312.00. Following the completion of the transaction, the chairman now directly owns 54,983 shares of the company's stock, valued at $9,905,737.28. The sale was disclosed in a filing with the SEC, which is available at this link. Also, insider Marc R. Bitzer sold 19,314 shares of the stock in a transaction dated Wednesday, May 10th. The shares were sold at an average price of $183.84, for a total transaction of $3,550,685.76. The disclosure for this sale can be found here. Company insiders own 2.62% of the company's stock.
COPYRIGHT VIOLATION WARNING: "Whirlpool Co. (WHR) Releases FY17 Earnings Guidance" was published by BBNS and is the sole property of of BBNS. If you are viewing this news story on another site, it was stolen and reposted in violation of United States & international trademark & copyright legislation. The original version of this news story can be read at https://baseballnewssource.com/markets/whirlpool-co-whr-updates-fy17-earnings-guidance-updated/652140.html.
About Whirlpool
Whirlpool Corporation is a manufacturer and marketer of home appliances. The Company's segments include North America; Europe, Middle East and Africa (EMEA); Latin America, and Asia. In North America, the Company markets and distributes home appliances and small domestic appliances under a range of brand names.
Receive News & Ratings for Whirlpool Co. Daily - Enter your email address below to receive a concise daily summary of the latest news and analysts' ratings for Whirlpool Co. and related companies with our FREE daily email newsletter.