SAP SE (ETR:SAP) has been assigned a €100.00 ($116.28) price objective by equities research analysts at Royal Bank Of Canada in a research report issued on Wednesday, October 18th. The brokerage presently has a "neutral" rating on the technology company's stock. Royal Bank Of Canada's target price indicates a potential upside of 0.45% from the stock's current price.
SAP has been the topic of several other research reports. Berenberg Bank set a €106.00 ($123.26) price objective on SAP SE and gave the stock a "buy" rating in a report on Friday, September 1st. Citigroup Inc. set a €105.00 ($122.09) price target on SAP SE and gave the stock a "buy" rating in a report on Wednesday, September 6th. Goldman Sachs Group, Inc. (The) set a €108.00 ($125.58) price target on SAP SE and gave the stock a "buy" rating in a report on Thursday, September 14th. Nord/LB set a €104.00 ($120.93) price target on SAP SE and gave the stock a "buy" rating in a report on Monday, July 3rd. Finally, Societe Generale set a €111.00 ($129.07) price objective on shares of SAP SE and gave the company a "buy" rating in a research report on Wednesday, July 5th. One analyst has rated the stock with a sell rating, seven have issued a hold rating and sixteen have issued a buy rating to the company's stock. The company currently has a consensus rating of "Buy" and an average target price of €100.58 ($116.96).
SAP SE (SAP) traded up €0.70 ($0.81) during trading hours on Wednesday, reaching €99.55 ($115.76). The company had a trading volume of 1,429,833 shares, compared to its average volume of 1,910,000. SAP SE has a 52-week low of €75.07 ($87.29) and a 52-week high of €100.62 ($117.00).
TRADEMARK VIOLATION WARNING: This piece of content was originally published by BBNS and is the sole property of of BBNS. If you are accessing this piece of content on another site, it was stolen and republished in violation of international copyright and trademark law. The correct version of this piece of content can be accessed at https://baseballnewssource.com/markets/sap-se-sap-given-a-100-00-price-target-at-royal-bank-of-canada/1722614.html.
SAP SE Company Profile
SAP SE operates as an enterprise application software and database company worldwide. It offers SAP HANA and SAP S/4HANA, which are in-memory computing platforms that store and process huge data, and eliminate the maintenance of separate legacy systems and siloed data; SAP BW/4HANA, a data warehouse software; SAP S/4HANA Cloud, a software-as-a-service solution that provides the scalability, ease of management, and security; SAP SuccessFactors, a suite of human capital management solutions to develop, manage, engage, and empower the workforce; SAP Concur, a travel and expense management solution; SAP Ariba, a guided buying, light enablement, and open platform solution; and SAP Fieldglass, a solution to procure and manage external workforce.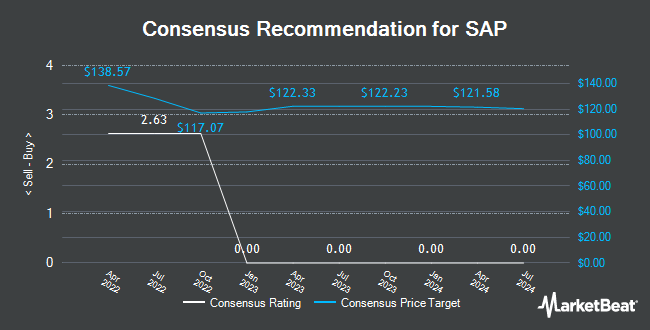 Receive News & Ratings for SAP SE Daily - Enter your email address below to receive a concise daily summary of the latest news and analysts' ratings for SAP SE and related companies with our FREE daily email newsletter.