Newalta Co. (TSE:NAL) had its price objective decreased by National Bank Financial from C$1.75 to C$1.15 in a research report report published on Thursday. National Bank Financial currently has a sector perform rating on the stock.
NAL has been the topic of a number of other reports. TD Securities reiterated a hold rating and set a C$1.00 price target on shares of Newalta in a research report on Tuesday, October 3rd. Canaccord Genuity reduced their price target on shares of Newalta from C$3.00 to C$1.90 and set a speculative buy rating on the stock in a research report on Tuesday, August 8th. Finally, Scotiabank reduced their price target on shares of Newalta from C$2.25 to C$2.00 and set a sector perform rating on the stock in a research report on Friday, August 4th. Four research analysts have rated the stock with a hold rating and one has given a buy rating to the company. Newalta presently has a consensus rating of Hold and an average price target of C$1.51.
Newalta (TSE:NAL) opened at C$0.82 on Thursday. Newalta has a 52-week low of C$0.66 and a 52-week high of C$2.63.
COPYRIGHT VIOLATION WARNING: "Newalta Co. (NAL) Price Target Cut to C$1.15 by Analysts at National Bank Financial" was originally posted by BBNS and is the property of of BBNS. If you are reading this article on another domain, it was illegally copied and republished in violation of United States and international copyright law. The legal version of this article can be accessed at https://baseballnewssource.com/markets/newalta-co-nal-price-target-cut-to-c1-15-by-analysts-at-national-bank-financial/1750677.html.
In other Newalta news, Director Gordon E. Pridham purchased 50,000 shares of Newalta stock in a transaction on Friday, August 11th. The shares were acquired at an average cost of C$1.12 per share, for a total transaction of C$56,000.00.
Newalta Company Profile
Newalta Corporation is a Canada-based provider of engineered environmental solutions to the oil and gas industry. The Company's segments include Heavy Oil and Oilfield. The Company's Heavy Oil segment processes oilfield-generated wastes, including treatment, water disposal, salt cavern disposal, landfilling, and the sale of recovered crude oil.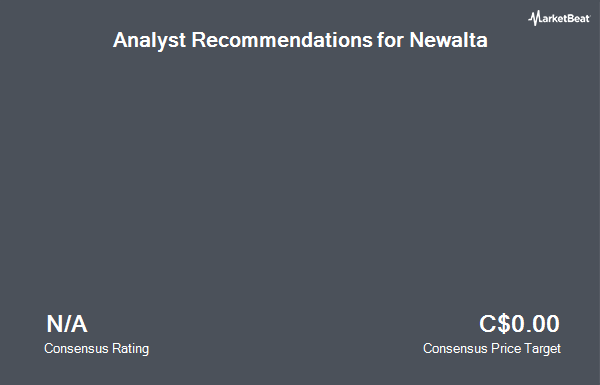 Receive News & Ratings for Newalta Co. Daily - Enter your email address below to receive a concise daily summary of the latest news and analysts' ratings for Newalta Co. and related companies with our FREE daily email newsletter.