Hudbay Minerals Inc. (TSE:HBM) (NYSE:HBM) had its price objective hoisted by CIBC from C$13.00 to C$14.00 in a report released on Friday, November 3rd. CIBC's target price indicates a potential upside of 37.52% from the company's previous close.
Other equities analysts have also issued reports about the company. National Bank Financial lowered Hudbay Minerals from an "outperform" rating to a "sector perform" rating and lifted their price objective for the company from C$11.25 to C$13.00 in a research note on Wednesday, October 18th. Scotiabank reaffirmed a "focus stock" rating and issued a C$12.50 price objective on shares of Hudbay Minerals in a research note on Thursday, November 2nd. BMO Capital Markets boosted their price target on Hudbay Minerals from C$10.50 to C$10.75 and gave the stock a "market perform" rating in a research report on Monday, October 2nd. Eight Capital reissued a "buy" rating on shares of Hudbay Minerals in a research report on Thursday, August 17th. Finally, TD Securities reduced their price target on Hudbay Minerals from C$13.50 to C$13.00 and set an "action list buy" rating on the stock in a research report on Friday, August 4th. Four analysts have rated the stock with a hold rating, five have given a buy rating and two have assigned a strong buy rating to the company's stock. The stock presently has an average rating of "Buy" and an average target price of C$12.09.
Shares of Hudbay Minerals (TSE HBM) traded up C$0.32 during trading hours on Friday, reaching C$10.18. The company's stock had a trading volume of 1,412,652 shares, compared to its average volume of 1,998,053. Hudbay Minerals has a 12-month low of C$6.13 and a 12-month high of C$11.95.
COPYRIGHT VIOLATION WARNING: "Hudbay Minerals Inc. (TSE:HBM) Price Target Increased to C$14.00 by Analysts at CIBC" was reported by BBNS and is the sole property of of BBNS. If you are accessing this piece on another website, it was stolen and reposted in violation of U.S. and international copyright and trademark legislation. The original version of this piece can be viewed at https://baseballnewssource.com/markets/hudbay-minerals-inc-hbm-price-target-raised-to-c14-00/1755645.html.
In related news, insider Gmt Capital Corp acquired 17,700 shares of Hudbay Minerals stock in a transaction that occurred on Thursday, September 14th. The stock was acquired at an average price of C$7.53 per share, for a total transaction of C$133,281.00. Insiders have purchased a total of 52,200 shares of company stock valued at $394,265 in the last 90 days.
About Hudbay Minerals
Hudbay Minerals Inc is a Canada-based mining company. The Company is engaged in the production of copper concentrate, consisting of copper, gold and silver, as well as zinc metal. The Company is focused on the discovery, production and marketing of base and precious metals. The Company has assets in North and South America.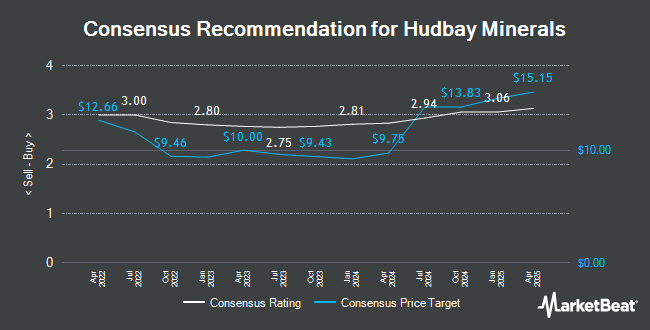 Receive News & Ratings for Hudbay Minerals Inc. Daily - Enter your email address below to receive a concise daily summary of the latest news and analysts' ratings for Hudbay Minerals Inc. and related companies with our FREE daily email newsletter.