Crane Co. (NYSE:CR) issued an update on its FY17 earnings guidance on Monday morning. The company provided earnings per share guidance of $4.35-4.55 for the period, compared to the Thomson Reuters consensus earnings per share estimate of $4.45.
Shares of Crane Co. (NYSE:CR) opened at 77.45 on Wednesday. Crane Co. has a 1-year low of $54.05 and a 1-year high of $82.35. The stock's 50 day moving average is $77.35 and its 200 day moving average is $74.69. The stock has a market capitalization of $4.61 billion, a price-to-earnings ratio of 35.19 and a beta of 1.19.
Crane (NYSE:CR) last posted its quarterly earnings data on Monday, April 24th. The conglomerate reported $1.05 earnings per share (EPS) for the quarter, topping analysts' consensus estimates of $1.00 by $0.05. Crane had a return on equity of 20.23% and a net margin of 4.47%. The firm had revenue of $673.40 million during the quarter, compared to analysts' expectations of $655.84 million. During the same period in the prior year, the business earned $0.93 EPS. The company's revenue for the quarter was up 2.0% compared to the same quarter last year. On average, equities analysts forecast that Crane Co. will post $4.50 EPS for the current year.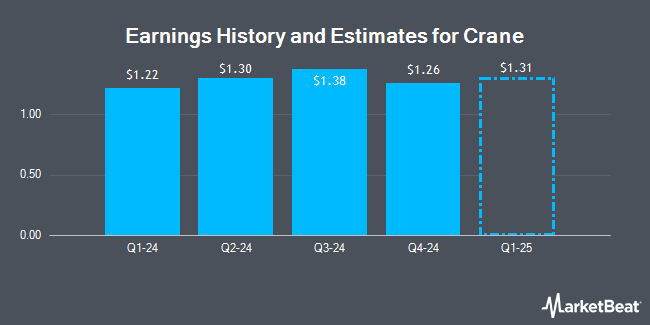 The company also recently disclosed a quarterly dividend, which will be paid on Friday, June 9th. Stockholders of record on Wednesday, May 31st will be issued a $0.33 dividend. This represents a $1.32 dividend on an annualized basis and a dividend yield of 1.70%. The ex-dividend date of this dividend is Friday, May 26th. Crane's payout ratio is currently 64.08%.
Several brokerages recently weighed in on CR. Stifel Nicolaus increased their target price on Crane from $80.00 to $84.00 and gave the company a hold rating in a report on Wednesday, April 26th. Canaccord Genuity upgraded Crane from a hold rating to a buy rating and increased their target price for the company from $78.00 to $92.00 in a report on Tuesday, May 16th. Oppenheimer Holdings Inc. restated an outperform rating and set a $90.00 target price (up from $82.00) on shares of Crane in a report on Monday, May 1st. William Blair upgraded Crane from a market perform rating to an outperform rating in a report on Tuesday, April 25th. Finally, Seaport Global Securities cut Crane from an accumulate rating to a neutral rating and increased their target price for the company from $71.00 to $72.00 in a report on Wednesday, February 1st. Seven research analysts have rated the stock with a hold rating and seven have given a buy rating to the stock. Crane currently has an average rating of Buy and a consensus price target of $72.36.
In related news, VP Curtis A. Baron, Jr. sold 5,364 shares of the firm's stock in a transaction that occurred on Tuesday, May 16th. The stock was sold at an average price of $79.60, for a total transaction of $426,974.40. Following the completion of the transaction, the vice president now owns 18,044 shares of the company's stock, valued at approximately $1,436,302.40. The transaction was disclosed in a filing with the SEC, which can be accessed through this link. Also, VP Richard A. Maue sold 14,528 shares of Crane stock in a transaction on Friday, April 28th. The stock was sold at an average price of $79.83, for a total value of $1,159,770.24. Following the completion of the sale, the vice president now directly owns 28,906 shares of the company's stock, valued at approximately $2,307,565.98. The disclosure for this sale can be found here. In the last ninety days, insiders have sold 39,261 shares of company stock valued at $3,025,932. 3.00% of the stock is owned by corporate insiders.
COPYRIGHT VIOLATION NOTICE: "Crane Co. (CR) Releases FY17 Earnings Guidance" was reported by BBNS and is owned by of BBNS. If you are reading this piece on another publication, it was illegally copied and republished in violation of US & international trademark and copyright laws. The original version of this piece can be read at https://baseballnewssource.com/markets/crane-co-cr-updates-fy17-earnings-guidance-updated/652298.html.
Crane Company Profile
Crane Co (Crane) is a manufacturer of engineered industrial products. The Company operates through four segments, including Fluid Handling, Payment & Merchandising Technologies, Aerospace & Electronics, and Engineered Materials. The Fluid Handling segment is a provider of engineered fluid handling equipment, including Process Valves and Related Products, Commercial Valves and Other Products.
Receive News & Ratings for Crane Co. Daily - Enter your email address below to receive a concise daily summary of the latest news and analysts' ratings for Crane Co. and related companies with our FREE daily email newsletter.