Peel Hunt reissued their add rating on shares of Bellway plc (LON:BWY) in a research report sent to investors on Tuesday, October 17th. They currently have a GBX 3,545 ($46.63) target price on the stock.
BWY has been the topic of a number of other research reports. Credit Suisse Group increased their price target on Bellway plc from GBX 2,976 ($39.14) to GBX 3,545 ($46.63) and gave the stock an outperform rating in a research report on Tuesday, July 11th. Barclays PLC reissued an overweight rating and set a GBX 3,631 ($47.76) price target on shares of Bellway plc in a research report on Wednesday, September 27th. J P Morgan Chase & Co raised their target price on Bellway plc from GBX 3,400 ($44.72) to GBX 3,600 ($47.35) and gave the company an overweight rating in a report on Friday, September 29th. Bank of America Corporation reaffirmed an underperform rating and issued a GBX 2,500 ($32.88) target price on shares of Bellway plc in a report on Tuesday, September 12th. Finally, Liberum Capital raised their target price on Bellway plc from GBX 3,032 ($39.88) to GBX 3,336 ($43.88) and gave the company a buy rating in a report on Wednesday, July 19th. One analyst has rated the stock with a sell rating, four have given a hold rating and nine have given a buy rating to the company's stock. Bellway plc currently has an average rating of Buy and an average price target of GBX 3,478.25 ($45.75).
Bellway plc (LON BWY) traded up GBX 18 ($0.24) during trading hours on Tuesday, reaching GBX 3,668 ($48.24). The company's stock had a trading volume of 501,847 shares, compared to its average volume of 509,307. Bellway plc has a 12-month low of GBX 2,251 ($29.61) and a 12-month high of GBX 3,805 ($50.05).
COPYRIGHT VIOLATION NOTICE: "Bellway plc (LON:BWY) Stock Rating Reaffirmed by Peel Hunt" was first posted by BBNS and is the sole property of of BBNS. If you are accessing this story on another publication, it was stolen and reposted in violation of United States and international copyright legislation. The correct version of this story can be accessed at https://baseballnewssource.com/markets/bellway-plcs-bwy-add-rating-reiterated-at-peel-hunt/1721020.html.
The company also recently disclosed a dividend, which will be paid on Wednesday, January 10th. Investors of record on Thursday, November 30th will be issued a dividend of GBX 84.50 ($1.11) per share. This is an increase from Bellway plc's previous dividend of $37.50. The ex-dividend date is Thursday, November 30th. This represents a dividend yield of 2.37%.
About Bellway plc
Bellway p.l.c is a holding company of the Bellway Group of companies. The Company is engaged in the building and selling of homes, ranging from one-bedroom apartments up to five-bedroom family homes, as well as providing social housing-to-housing associations. It focuses on providing traditional family housing outside of London and apartments within the London boroughs, in zone 2 and beyond.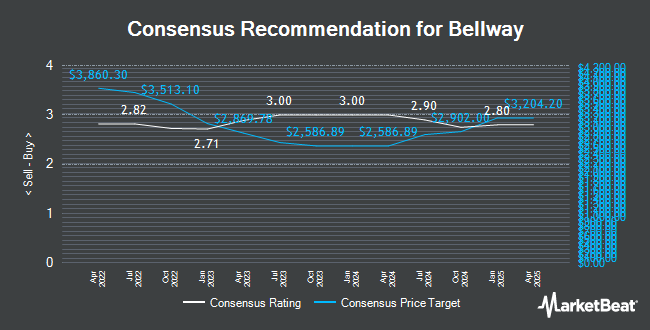 Receive News & Ratings for Bellway plc Daily - Enter your email address below to receive a concise daily summary of the latest news and analysts' ratings for Bellway plc and related companies with our FREE daily email newsletter.