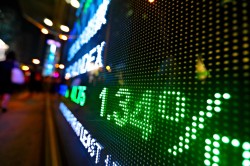 Beacon Securities reissued their buy rating on shares of Xebec Adsorption (CVE:XBC) in a research note released on Wednesday morning.
Shares of XBC opened at C$0.75 on Wednesday. Xebec Adsorption has a twelve month low of C$0.45 and a twelve month high of C$1.05.
Xebec Adsorption (CVE:XBC) last announced its quarterly earnings results on Thursday, November 8th. The company reported C$0.01 earnings per share for the quarter. The company had revenue of C$8.25 million during the quarter.
In related news, insider Simon David Arnsby purchased 58,500 shares of the business's stock in a transaction on Wednesday, October 10th. The shares were purchased at an average price of C$0.82 per share, with a total value of C$47,970.00. In the last ninety days, insiders acquired 243,950 shares of company stock worth $189,213.
Xebec Adsorption Company Profile
Xebec Adsorption Inc provides gas purification, generation, and filtration solutions for the natural gas, field gas, biogas/renewable natural gas, helium, hydrogen, nitrogen, and oxygen markets. It operates through three segments: Clean Technology, Industrial Compressed Air and Gas Treatment, and Oil and Gas.
Recommended Story: Price to Earnings Ratio (PE), For Valuing Stocks
Receive News & Ratings for Xebec Adsorption Daily - Enter your email address below to receive a concise daily summary of the latest news and analysts' ratings for Xebec Adsorption and related companies with MarketBeat.com's FREE daily email newsletter.