Avon Rubber plc (LON:AVON) insider Miles Ingrey-Counter purchased 11 shares of the company's stock in a transaction dated Friday, October 5th. The shares were acquired at an average cost of GBX 1,322 ($17.27) per share, with a total value of £145.42 ($190.02).
Miles Ingrey-Counter also recently made the following trade(s):
On Wednesday, September 5th, Miles Ingrey-Counter purchased 11 shares of Avon Rubber stock. The stock was bought at an average price of GBX 1,405 ($18.36) per share, with a total value of £154.55 ($201.95).
Shares of AVON stock opened at GBX 1,210 ($15.81) on Friday. Avon Rubber plc has a 52 week low of GBX 885 ($11.56) and a 52 week high of GBX 1,325 ($17.31).
A number of brokerages have recently issued reports on AVON. Peel Hunt reiterated a "buy" rating on shares of Avon Rubber in a report on Tuesday, October 2nd. Berenberg Bank began coverage on shares of Avon Rubber in a report on Friday, June 29th. They set a "buy" rating and a GBX 1,715 ($22.41) price objective for the company.
About Avon Rubber
Avon Rubber p.l.c. designs, manufactures, and sells chemical, biological, radiological, and nuclear respiratory protection systems for military, homeland security, first responder, fire, and industrial markets worldwide. It operates through two segments, Protection and Dairy. The company offers respirators or gas masks with a range of spares and accessories; emergency hoods; rebreathers for escape and underwater use; self-contained breathing apparatus; consumable filters and thermal imaging camera equipment; and fuel and water storage tanks to military forces, civil and first line defense troops, and emergency service teams, as well as industrial, marine, mineral, and oil extraction site personnel.
Further Reading: Average Daily Trade Volume – What You Need to Know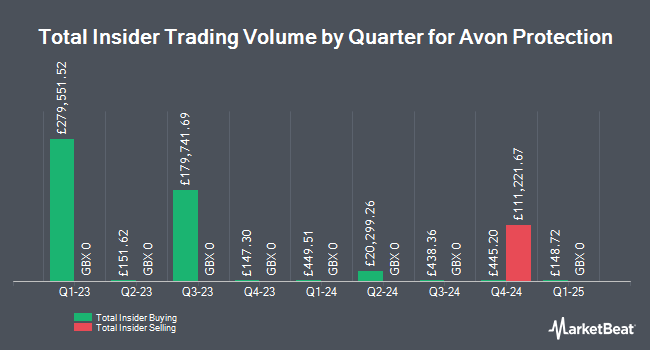 Receive News & Ratings for Avon Rubber Daily - Enter your email address below to receive a concise daily summary of the latest news and analysts' ratings for Avon Rubber and related companies with MarketBeat.com's FREE daily email newsletter.